Tutorial 6: Email Marketing
Dynamicweb Email Marketing is an integrated tool for managing and controlling your email marketing efforts – newsletters, sign-up emails, abandoned cart emails and more.
In Dynamicweb, emails are actually pages – and the Email Marketing tool is used to send out a these pages to the users you select.
In this tutorial you will learn how to use the Email Marketing tool at the most basic level:
Creating emails
Selecting recipients
Sending an email – and scheduling emails
Using Email Placeholder tags
Later tutorials will cover Ecom-specific emails, such as Voucher emails and Abandoned Cart emails.
Creating an email page
As mentioned, emails in Dynamicweb are actually pages – in fact, you can send any page you want to your users, but it's probably not a good idea to send people your front page.
If you followed content tutorial 3 about Items, however, you should already have a Newsletter created – and we will use that.
If you did not follow content tutorial 3 (about items):
Create a Newsletter folder in your content tree
Create a page under that – add a few paragraphs to it so it approximates a newsletter.
Select or create a layout for the page, and make sure that the page content is rendered in frontend. Doesn't have to be pretty, just to verify that your setup works.
Once you have a newsletter created you can move on to creating the email.
Creating an email
To create an email:
Click on Marketing in the area menu to open the marketing tree
Click Email Marketing to fold out the email marketing nodes
Right-click on the DefaultTopFolder folder and click Create new email (Figure 3.1)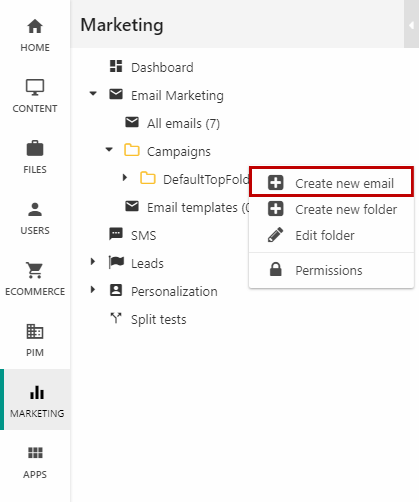 Figure 3.1 Creating an email
Choose the Blank Email type and write an email subject, then click OK to open the edit email view (Figure 3.2).
Figure 3.2 Edit email
Using the email fields:
Add a placeholder tag to the subject to personalize the subject – these placeholders will be replaced with values from user management once the email it sent out
Enter values in the from: name and from: email fields
Enter a text in the pre-header field
Use the page selector to select your newsletter page
At this point, the email is basically created – so save it and click preview to see how it looks.
If you're happy with everything it's time to select your email recipients.
Selecting recipients
When selecting recipients, you have several options:
Adding users individually
Adding user groups
Adding a user smart search
Adding a saved repository query
You can combine these options as you see fit – but for now:
Open User management
Create yourself as a user, add your email address and check the email permission option
Go back to your email and add yourself to the list of recipients – notice how the number for Recipients with permission changes to 1
The Recipients with permission count will always reflect the actual number of users you will send to – users without email permission are filtered out, as are users with duplicate emails (Figure 4.1).
Once you're happy with your list of recipients you are ready to send the email.
Figure 4.1 Selecting recipients
Sending the email
Sending an email couldn't be easier – simply click the Send button and select Send now (Figure 5.1).
Figure 5.1 Sending the email
As is apparent, you can also schedule an email for later – don't do that now, however. We will revisit that function in later tutorials, where it makes more sense.
Once you send an email, it will be moved from the Draft subfolder to the Scheduled subfolder. It will remain there until it has been processed by the system, after which it will be moved to the Sent folder. This should be nearly instantaneous in this case, but you may experience delays when sending to e.g. 100.000 users or more.
What you've learned – and what's next
In this tutorial, you've learned the basics of working with Email Marketing, including:
Creating an email page
Creating an email
Selecting recipients
Sending an email
In the next tutorial we will take a closer look at the Split Test tool, which allows you to create variant content and test which version performs the best.
This is very useful for optimizing value generation without taking unnecessary risks.
Extra Exercises
If you have extra time, or you're extra curious, consider doing one or more of the extra exercises below.
Email Personalization
In many cases you will be creating newsletters targeting a particular segment amongst your users, especially if you work on solutions with a large user base or across many languages.
Dynamicweb contains a powerful tool for creating personalized emails targeting all of these segments inside the same email page – which saves you the effort of creating four nearly identical newsletters at the same time.
We will be using the three segments you created during the user tutorials – Users in Denmark, Users in Norway, Users in Sweden, and Users in the United States.
The process is pretty straight forward:
Create the content targeting the various segments inside the same email, as in Figure 8.1
Figure 8.1 Email Personalization
Switch to the Marketing-tab and click Email Personalization (Figure 8.2)
Figure 8.2 Selecting Email Personalization in the Marketing-tab
This opens the Email Personalization view – you will see a list of the paragraphs you just created.
Click Add segment and add your four smart searches from User Tutorial 1 (Figure 8.3)
Figure 8.3 Adding segments
With the segments added to your email personalization view you will be able to check and uncheck the paragraphs for each segment (Figure 9.1).
Figure 9.1 Email Personalization overview
In this case we want:
Everyone should get the intro and the outro paragraph
Each segments should receive the paragraph targeting them – and none of the other paragraphs
If you get a little confused, don't worry – you can preview your email as each segment, and catch any errors early!
Click OK, then click Email Preview in the Marketing tab (Figure 9.2)
In the preview window, use the dropdown to select one or more segments to preview the email as
Figure 9.2 Email preview